Important Changes to Island Lake Day Ticket Fishery in Response to Covid-19
In response to the current Covid-19 pandemic we have made some changes to the way Island Lake will operate for the purposes of angler and bailiff safety and improved bio-security for fish welfare. You must read all these changes, by expanding the information blocks below, before going to the main website and online shop as they now form part of the rules and superceed any other information which may not yet have been changed on the main website.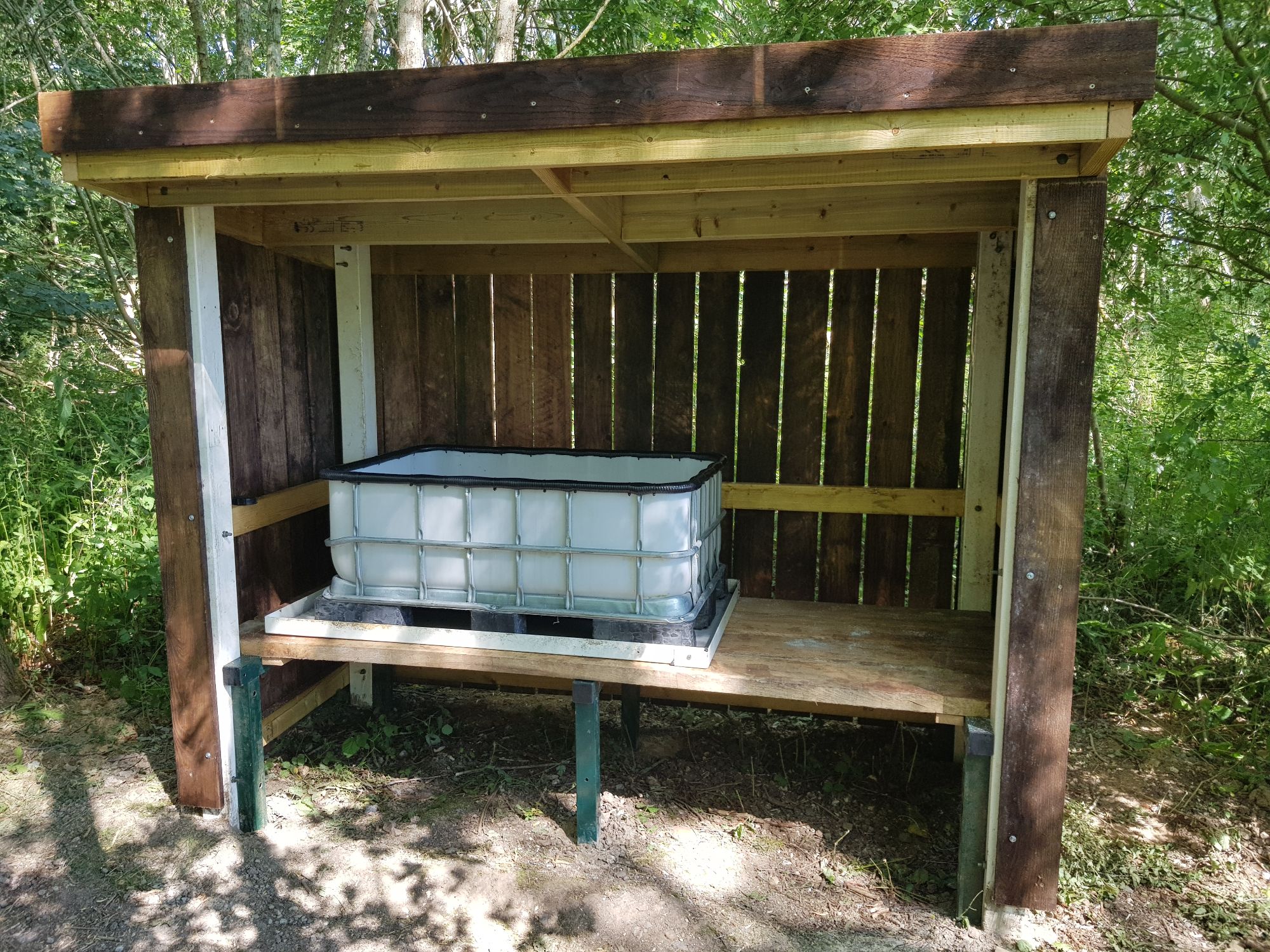 In response to a percieved increase in 'travelling' day ticket anglers we have installed a new disinfection or 'dip tank' along the path between the car park and the lake. Disinfection of all landing nets (and stink bags if you use one), unhooking mats, weigh slings and water buckets is compulsory for all anglers. (retainers, carp sacks and keep nets are not allowed on the Fishery.).
If everyone arrives at the same time you will have to que and wait your turn, whilst rembering to social distance according to Government advice.
Equipment must be completely submerged in the solution of Virkon Aquatic for 5 minutes before proceeding onto the lake and single-use gloves are provided for this purpose. An overall contact time of at least 10 minutes is required so equipment must be left damp and not washed off in the lake.
This does not replace the 'check, clean, dry' regieme, all equipment must still be clean and totally dry before coming to the Fishery but is an additional layer of biosecurity to combat the ever increasing threat that viral fish diseases pose all year round.
During this pandemic period we are only selling 23 hour tickets which will run from 9am until 8am the following day at a cost of £20 per ticket. These will be sold as day tickets with no seperate night tickets available. This is to reduce overall angler numbers and interaction at the 'normal' change-over times. You must not go on to the Fishery before 9am on the morning the ticket starts but you may turn up at 8:30 and disinfect your equipment prior to your ticket start time. You must have packed up and left the car park before 8am the following day. There is no longer a 1 hour's grace period for looking round or packing away.
Obviously if you wish to only fish the day or night that is fine as long as you strictly adhere to the timings above.
If you have pre-purchased tickets for and are fishing a session of more that 24 hours then you can remain on the water for the additional hour between change overs but must have left by 8am on the final morning.
Tickets must be purchased individually unless you are members of the same household. Tickets are only sold through the shop on the website and are subject to availability and acceptance of the new Covid-19 rules below in addition to all Theale Fisheries Rules and Codes of Conduct available to view on this website.
Anyone with any symptoms of Covid-19 (however mild) or who should be self-isolating in accordance with Government Guidelines must not visit the Fishery for the relevant period. Anyone who develops symptoms on the bank must leave immediately.
All anglers must bring and use their own hand sanitiser when using gates, locks and door handles. If you use wipes rather than gel these must not be discarded and must be taken home with your rubbish.
Social distancing according to Government Guidelines must be observed at all times on Theale Fisheries property, including the car park.
Swims 3 and 5 are temporarily closed, unless two people from the same household wish to fish next to each other. You may not fish these swims next to anyone else from a different household.
Junior anglers can only be accompanied by an adult from the same household.
No sharing of equipment (for example you must land your own fish and not allow someone else to pick up your net and help you).
Bailiffs will still be carrying out rig checks. You will have to wind in, put the rod down and step back to allow them to take a look whilst maintaining social distancing.
Bailiffs will still be carrying out ticket checks. You must still bring your Website Order Notification and will have to provide your name and transaction reference.
To confirm you have read and accept these changes click
Powered by Create Ecommerce